In compliance with cGMP standard.
Higher output suitable for large batch production.
Force feeder attachment is a standard features, so higher weight consistency of tablets.
Inter locked guards, for safety.
Internal helical gear ring and pinion drive for smooth running of machine.
Easily removable bottom driven rotary force feeders.
ACVF drive for main motor & also ACVF drive for feeder motors.
Electromagnetic clutch.
All the tablet parameters can be set from outside of the tableting zone.
Heavy duty advance design of overload compression spring system, eliminates hydraulic cylinders & accumulator cylinder.
No maintenance of hydraulic cylinder & accumulator cylinder.
Continuous lubrication pump for turret helical gear & pinion.
One shot lubrication pump is provided for lower roll pins.
Lower punch seals in turret.
3 Types of filling cams.
Upper punch penetration.
Separate electrical panel on front of machine, which facilitateseasy cleaning of machine.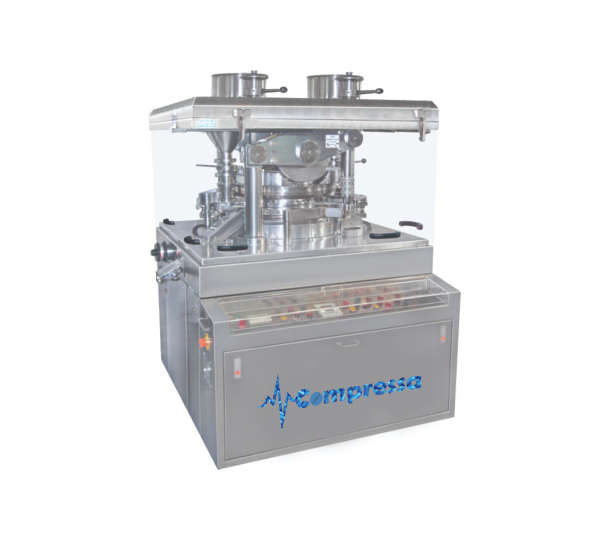 Additionl Optional Features
Three piece turret with stainless steel 304/316 die-table.
Powder level monitoring device at feed hoppers.
Spray lubrication system for effervescent table production.
Gravity feeing system.
Bi-layer tablet facility.
Fully Automated machine.
Complete AWC(auto weight control)
Compressa software-21CFR Compliance.
Force Measurement along with graph representation.
Technical Specification
Machine type
Compress-2900
Compress-2900
Compress-2900
Compress-2900
Number of Station
37
45
55
61
Type of Tooling
'D'
'B'
'BB'
'BB'
Output-Tablets/Hr.* Maximum
222000
270000
333000
366000
Max. Operating Pressure-Main(kN)
100
65
65
65
Max. Tablet diameter
25 mm
16 mm
11 mm
11 mm
Max. Depth Of Fill
20 mm
17 mm
17 mm
17 mm
Upper Punch entry Main
3 to 6
Power Total(kW/hp)
6.70/9.00
main Motor(kW/hp)
5.50/7.50
Force Feeder Motor(kW/hp)
0.18/0.25
Electrical Supply
415V / 3 Phase / 50 Hz
Overall Dimensions LxWxH(mm)
1440x1430x1920
Net Weight (Kg)
2500
Case Dimensions LxWxH(mm)
1670x1830x2150
Gross Weight(kg)
2835