High Speed Double Sided Rotary Tablet
Press suitable for large batch production.
Conforming to stringent cGMP norms.
All Tablets parameters can be fine tuned during operation from outside the tableting zone.
This Machine is available with Pre-compression Roller, Ability to compress variety of products easily.
ACVF drive for main motor.
This machine is having bottom driven rotary force feeder, ensure weight consistency, Separate.
AC variable drive for force feeder motors.
Easy accessibility for quick cleaning and product change over. Precise weight control by calibrated SIEKO dials.
3 Types of filling lower cam track is provided with machine.
Heavy duty advance design for overload compression spring
system eliminates hydraulic cylinders & accumulator cylinder.
No maintenance of hydraulic cylinder & accumulator cylinder.
All upper guards and side guards interlock provided for operator safety.
Ensures hygienic production condition and operator safety.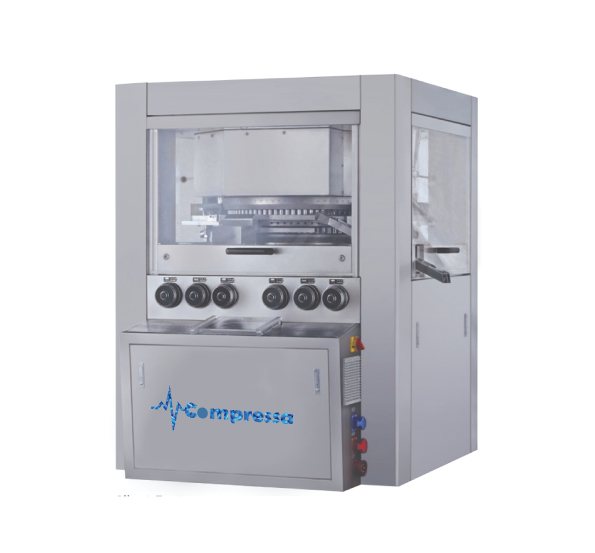 Additionl Optional Features
Fully automated machine.
Random tablet sampling device.
SS 316/SS 304 middle plate in turret.
Electro less nickel plating on turret.
Hopper powder level sensor.
Spray Lubrication system for effervescent tablet production.
Bi-layer tablet attachment.
Gravity feeding system
Auto lubrication system.
Compressa software-21CFR compliance
Force measurement along with graphic representation
Technical Specification
Machine type
Compress-3600
Compress-3600
Compress-3600
Compress-3600
Number of Station
45
61
69
75
Type of Tooling
'D'
'B'
'BB'
'BB'
Output-Tablet/Hr
32400
439200
496800
540000
Max. Operating Pressure-main(kN)
100
65
65
65
Max Operating pressure (Pre-Compression)
10
10
10
10
Maximum Tablet Dia.
25 mm
16 mm
11 mm
11 mm
Maximum Depth of fill
20 mm
17.5 mm
17.5 mm
17.5 mm
Upper Punch penetration-main(mm)
3 to 8 mm
Power Total(kW/ hp)
8.75/ 11.70
Main Electric motor
7.50/10.00
Force Feeder motor
0.19/0.25
Electrical supply
(a)415 V / 3 Phase/ 50Hz
(b) 480 V /3 Phase/60Hz
(c)220 V / 3 Phase/ 60Hz
Overall Dimension (mm)
1460 (L) x 1610 (W) x 1960 (H)
Net Weight (Kgs.)
3750
Gross Weight (Kgs.)
4085